Trackers are standard, one-dashboard, applications with varying layouts and content but with equal functionality for all. Read more about tracker functionality and design in general here.
Tracker users can also configure their own personal e-mail alerts.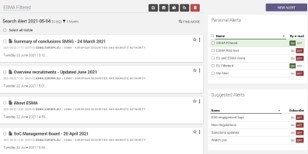 The Sustainability Regulations Tracker is a convenience dashboard for sustainability/ESG management in general, and SFDR and CSRD matters in particular. It contains news channels from all major regulating and influential bodies with a bearing on sustainability matters, complemented with time graphs, new regulations, sanctions and more from these organizations. The intended usage of this tracker is to be on top of sustainability related regulatory communications and changes.
Finding and digesting relevant information on sustainability legislation and regulations required for your organization can be a very daunting and time-consuming task. Still, the increased regulatory focus on sustainability compliance requires organizations to address such matters on significantly higher levels than has hitherto been the case, extending beyond the company itself to include its entire business eco-system. Inzyon's Sustainability Regulations Tracker is aimed at supporting just that! It is a reliable and powerful compilation of information covering a vast range of news and regulatory sources, such as:
Within EU – the EU Commission, ESMA, ECB, EBA
Country specific – BoE, FEDc
Global – UN, WTO, ILO, IMF
The Sustainability News Tracker is a convenience dashboard for all kinds of sustainability management, awareness and planning. What are the latest SDG trends? Any looming greenwashing scandals? Any opportunities or threats for us in particular?
The tracker follows the development of international SDG trends, industry and companies' sustainability strategies and actions, greenwashing alerts and more that are of immediate interest to any ESG/sustainability strategist, marketing manager, senior executive, or alike, in any company. The intent of the tracker is to be a source of strategy inspiration as well as an early warning tool with regards to markets' sustainability sentiment.
All trackers are also included in the corresponding full-scale Monitor application.
Trackers functionality and content can be updated at any time and customers are welcome to suggest such updates that will, if accepted, benefit all. 
Experience the insights of
Inzyon Sustainability Trackers