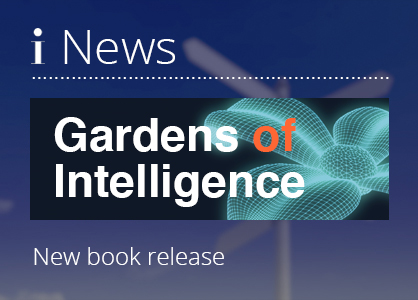 Press Release, September 21, 2021
Gardens of Intelligence: Inzyon CEO co-publishes extensive management guidebook on Market and Competitive Intelligence platforms.
Swedish long-term expert and thought leader in the domains of Competitive Intelligence, and CEO of Inzyon, Gabriel Anderbjörk, together with co-author Comintelli CEO Jesper Martell today announce the availability of their new book Gardens of Intelligence, a 350-page management guidebook on how to design and implement technology driven, high-capacity, platforms for Market and Competitive Intelligence.
Inzyon CEO Gabriel Anderbjörk and his long-term colleague, friend and co-founder of software vendor Comintelli, Jesper Martell, have released their co-authored book Gardens of Intelligence – Designing robust digital Market and Competitive Intelligence platforms. "This is such an exciting moment" says first time author Anderbjörk. "Having spent at least three years together working on this documented experience of digital intelligence platform implementations, in numerous global corporations, it is just amazing to eventually see it all in a book format. We hope all readers will be as exited when they get hold of their first copies as well."
For Inzyon Customers, and other interested parties, Gardens of Intelligence is a perfect read to get a hands-on background to how our Insights Environments are specified and designed. Through our semi-multitenant solutions for sustainability intelligence, as well as other forthcoming focus segments, we shortcut some of the early development phases of the Garden model for some very particular subject matters, enabling a faster time to target for our customers.
For further details abut the book, see publisher press release , the supporting website and LinkedIn page
Ordering information
The book is available on all major bookstores, both in print and e-book editions.
Amazon
Technics Publications
Online Book launch event on September 21st
Meet the authors on Technics Publication's on-line book launch event on September 21st.
US PAC: 09.00
US EST: 11.00
CET: 17.00
Register for participation here
See Press Release on Cision here.