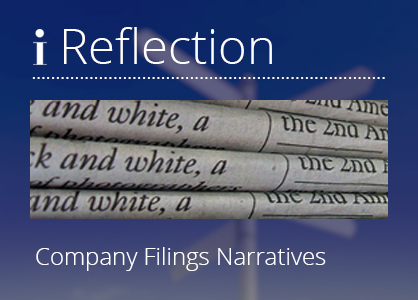 Company Filings narratives – a wealth of ESG analysis data
In a world of indexes and ratings it is truly refreshing to encounter, every now and then, the acclaimed imperative of company narratives. In a recent webinar hosted by Morningstar/Sustainalytics (Finding your path in the upcoming ESG regulations) this particular factor for ESG research was highlighted as one of those with the unfortunate combined character of being both important and at the same time complex to address due to the lack of standards. Discussing firms publishing sustainability reports, Andy Pettit, Morningstar Director on Policy Research commented that "They are often long on text, short on metrics, and not at all easy to compare"
The importance of narrative reporting cannot be argued with. If anything, it could possibly have been even more promoted as a prime source for impact investment assessments. After all, the Sustainability Related Disclosure Directive, the SFDR and NFRD all require narrative components. Furthermore, it is currently the single existing source of potential insights into the sustainability thinking of the company above and beyond climate action metrics. But what about the complexity?
Granted, no portfolio manager, asset manager or ESG researcher/analyst would individually stand a reasonable chance to manually cover all communications from every single company in a given investment universe of any size. Pettit touched on this topic as well. Supporting a bullet in his presentation "Need to avoid information overload" he commented, referring to how technical information is to be provided to investors, that it is as a "Massive topic worthy of discussion in its own right". This is probably why we are witnessing the emergence of an increasing number of different ESG- and sustainability related rating services. No criticism implied here at all, on the contrary!*
The sheer number of rating factors that need to be covered in order to comply only with e.g. the EU taxonomy for CO2 alone is sufficient to realize that there is a great need for multidimensional rating services. Still, such ratings tend to cover just a subsection of the entire ESG, or SDG, scope. How to put a rating on all social aspects of a given company's business operations? How to rate its aspirations within community engagement or donations for health and safety in the countries in which it operates. At least for now we do not see ratings in any such dimensions as trustworthy proposals, should there be any. Hence, the investment community need to rely on narratives.
Company narratives come in many forms, but the main split can, arguably, be said to be between narratives about and narratives by a company. Those by the company tend to be formal filings, press releases, general market communications and wider community communications of different kinds, including social media channels.
Of course, all these together form a tremendously interesting palette of communications to analyze but the formal company filings is a highly valuable source to monitor. After all, this is the channel the companies are using to tell the financial markets in particular about their ESG aims, efforts and results. If gaps can be identified between the formal filing communication and the rest of the company communications a red flag should be raised and if a comparison with general communications about the company reveals further gaps, we have severe issues to address in assessing portfolio holdings. A good example of this is described in this article by Blackpeak founder Chris Leahy, Boohoo: an ESG Sob Story
The challenge of manually sifting through the vast amount of company filings narratives indeed remains almost undoable without algorithm-based application support. This Reflection was, however, not intended to include any tech talk, just to highlight end exemplify the importance of actually including company filings narratives in the ongoing ESG analysis.
*Recommended readings on the topic of ratings are these articles from Research Affiliates "What Difference an ESG Ratings Provider Makes  and SustainAbility Rate the Raters 2019
Inzyon Reflections is a series of brief thoughts and observations with a bearing on insights management in general and, every now and then, sustainability matters in particular. For additional Inzyon Reflections, see here.
Read  about the ESG Monitor Company Filings Dashboard here.