Functionality Overview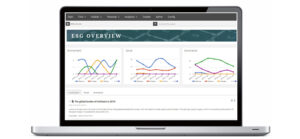 Inzyon ESG monitor is an on-line SaaS solution with standard content, components and preset configurations. Each customer can refine and adjust their own application further as a tool to achieve a competitive edge in their management of sustainable investments. The ESG monitor supports the Fund Manager in tracking, analyzing and acting upon ESG related matters in his/her organization's investment universe.
Inzyon's ESG monitor is directly targeted to all Asset Management organizations that are subject to current and forthcoming regulations on compliance with sustainable investments as well as rapidly increasing sustainability requirements from the asset ownership community.
Contrary to solutions that provide users with pre-calculated ratings on portfolios or specific holdings, Inzyon's ESG monitor supports the fund manager, and/or the ESG researcher, to develop their own assessment models, thereby not only supporting in the compliance work but also enabling competitive advantages vs other asset management companies as insights on holdings' ESG performance can be spotted "ahead of the curve".  The monitor can contribute to significant efficiency gains towards implementations of the PRI standards as well as the reporting to, and dialogues with, asset owners.
Inzyon ESG monitor is far from the only tool available for investors' ESG compliance but it's unique structure of algorithms and visuals in combination with its focus on narratives and real time unstructured information makes it a one-of-its-kind strategy tool in a world consisting of mostly filings and numbers-based  services. 
Key features of the Inzyon ESG monitor:
Utilizes Inzyon SCF (Sustainability Classification Framework), thereby covering the entire perspective of ESG, not just the CO2 aspects that many services today are focusing on.

Analyses and visualizes "real time" data for your entire investment universe, not just the scheduled reporting for the holdings.

Contains working tools for your ESG analysts and portfolio managers to control, track and document your proactive holdings management with regards to ESG matters.

The user experience is based of three key components:
The application functionality as described under the links below

The application dashboards 
The application content
In summary, Inzyon ESG monitor is designed to make customers compliant with the forthcoming recommendations and sustainable investment regulations and at the same time enable a competitive edge, intended to have a direct impact on the value development of portfolios managed.